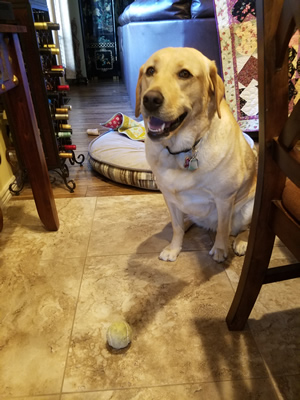 That's it. I'm done with everything from 2017. It was a busy year! Now I'm doing posts on 2018 as things come up. I spent way too much time working on this blog last year. Seventy five posts, and many of them very long ones. I am NOT going to do as much this year.
If anyone was reading my recent posts, I adjusted the dates on them so that they all fit in 2017. Hopefully it won't cause confusion.
IMPORTANT REMINDER. To really see the photos, click on them to get the full size version. It's best to expand your web browser to full screen so you get the full benefit. The thumbnails that I put in the text of the posts does not do them justice.
Dog Blog
Read the latest entry
6 Feb 2018&nbsp&nbsp&nbsp Abby Finds A Tennis Ball
Abby's philosophy is finders, keepers >>More
1 Feb 2018&nbsp&nbsp&nbsp Moorea
We take a trip to one of the most beautiful islands in the world >>More
31 Dec 2017&nbsp&nbsp&nbsp Family Christmas Visit
After many years both my sons are home at Christmas >>More
30 Dec 2017&nbsp&nbsp&nbsp Bagging Arches
Eleven in one day >>More
29 Dec 2017&nbsp&nbsp&nbsp Little Wildhorse Canyon/Bell Canyon Loop
Sandy and I hike through two impressive slot canyons >>More
28 Dec 2017&nbsp&nbsp&nbsp Bryce Canyon National Park
We stop at another park on the way back to Boise >>More
27 Dec 2017&nbsp&nbsp&nbsp Grand Canyon: Rim to River And Back
I hike to the bottom of the Grand Canyon and back in a day >>More
26 Dec 2017&nbsp&nbsp&nbsp Grand Canyon
Sandy and I take a trip to Grand Canyon with Mary Beth >>More
25 Dec 2017&nbsp&nbsp&nbsp Stack Rock II
I try again after failing on a climb back in July >>More
24 Dec 2017&nbsp&nbsp&nbsp Bench Lake
A late season hike in the Sawtooths >>More
23 Dec 2017&nbsp&nbsp&nbsp Extra Nepal Pictures
Just lots of pictures for those who think my stories are boring >>More
22 Dec 2017&nbsp&nbsp&nbsp Nepal Pt16: Spending Deepawali in Kathmandu
My last, but very long post on my trip to Nepal >>More
21 Dec 2017&nbsp&nbsp&nbsp Nepal Pt15: Tenzing-Hillary Airport
It's Tenzing's country so he gets top billing >>More
20 Dec 2017&nbsp&nbsp&nbsp Nepal Pt14: Home Stretch
Finishing the trek >>More
19 Dec 2017&nbsp&nbsp&nbsp Nepal Pt13: Tengboche
It feels like I'm back to civilization...almost >>More
18 Dec 2017&nbsp&nbsp&nbsp Nepal Pt12: Hiking Downhill
Well, mostly downhill >>More
17 Dec 2017&nbsp&nbsp&nbsp Nepal Pt11: Crossing the Cho La
We cross another high pass...two out of three ain't bad >>More
16 Dec 2017&nbsp&nbsp&nbsp Nepal Pt10: Climbing Gokyo Ri
I try to climb a 17,000 foot peak in the Himalaya...twice >>More
15 Dec 2017&nbsp&nbsp&nbsp Nepal Pt9: Crossing the Renjo La
I'm reminded that 17,000 feet is really high >>More
14 Dec 2017&nbsp&nbsp&nbsp Nepal Pt8: Getting High
It's why climbers, trekkers and hippies go to Nepal >>More
13 Dec 2017&nbsp&nbsp&nbsp Nepal Pt7: Changes
Namche has changed a lot since my visit in 1990 >>More
12 Dec 2017&nbsp&nbsp&nbsp Nepal Pt6: On to Namche
just another Phakding day on the trek >>More
11 Dec 2017&nbsp&nbsp&nbsp Nepal Pt5: Back on Track
or should I say back on trek >>More
10 Dec 2017&nbsp&nbsp&nbsp Nepal Pt4: Starting the Trek
I'm finally hiking in the Himalayas! >>More
9 Dec 2017&nbsp&nbsp&nbsp Nepal Pt3: The End of the Road
I'm determined to get to the mountains somehow >>More
6 Dec 2017&nbsp&nbsp&nbsp Nepal Pt2: Flying to Lukla
...NOT!!! >>More
3 Dec 2017&nbsp&nbsp&nbsp Nepal Pt1: Going Halfway Around the World
A funny thing happened on the way to Patagonia >>More
2 Dec 2017&nbsp&nbsp&nbsp Halloween
Abby helps me out with Trick or Treat >>More
1 Dec 2017&nbsp&nbsp&nbsp Mickey and Allie Visit
Mickey and his girlfriend pay a visit to Idaho >>More
6 Nov 2017&nbsp&nbsp&nbsp The Great American Eclipse
The chance of a lifetime to see a total solar eclipse >>More